Hey Everyone,
Can you believe that it is already June.
Are you ready for summer? I know I sure am. I am hoping to get a lot of sun time this summer.
I turned this sketch on its side to accommodate my pictures.
I also substituted several images instead of the swirls used in the sketch.
These pictures are of my nephew, surprise, surprise. He seems to be a big part of my scrapbooking right now. These pictures are from his birthday 2010. I wanted to get him a sandbox for Christmas 2009, but my mom did not think that he would play in it. Over the summer last year, the neighbors behind my mother got a sandbox and my nephew was in the sandbox, even when the neighbor kids were not outside playing. I decided to get him this little turtle sandbox. It even has a lid. He LOVED it. My mom said he spent hours outside playing with it every day for a week after his birthday.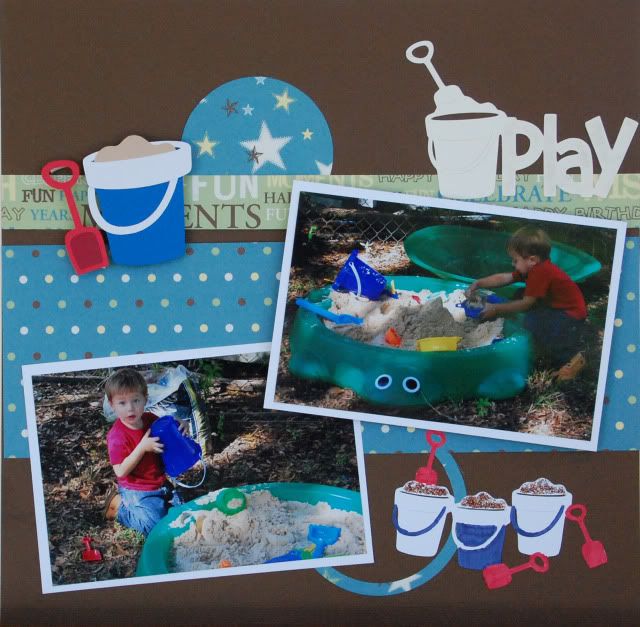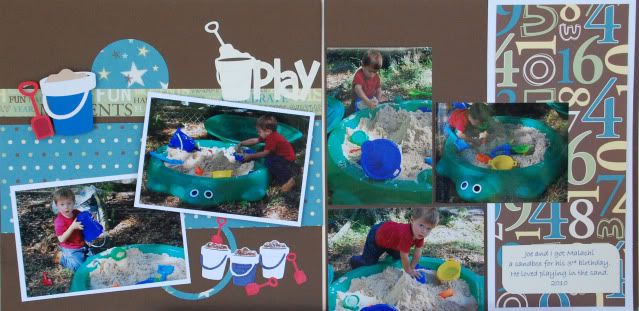 Thanks for looking and I hope the sketch and my layout gives you inspiration.
Some of the products used…

ATG gun
Pop dots
Close to my Heart - Good Times
Bazzil Cardstock
Stickles

Cricut Cartridge:
Life's A Beach